desktop / laptop
STEP 1:
Go to the iTunes page for Presentation Hell!
STEP 2:
Click the "Listen on Apple Podcasts " button (see example below).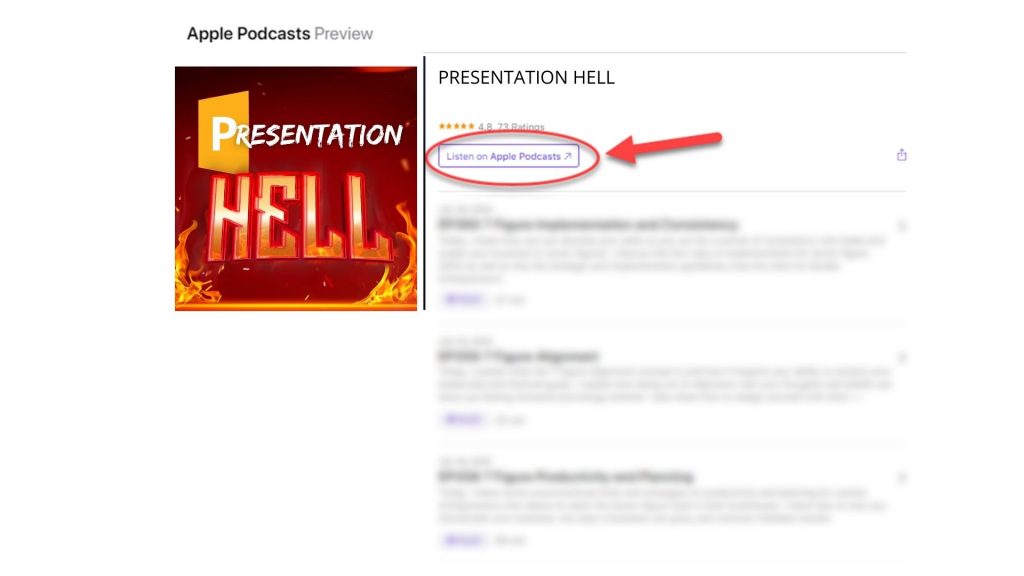 STEP 3:
Once Apple Podcasts is launched, you will see Presentation Hell thread. Click the 'SUBSCRIBE' button (if you have not already subscribed). You'll be asked to sign into your iTunes account. Then click on the Ratings & Reviews tab (see example below):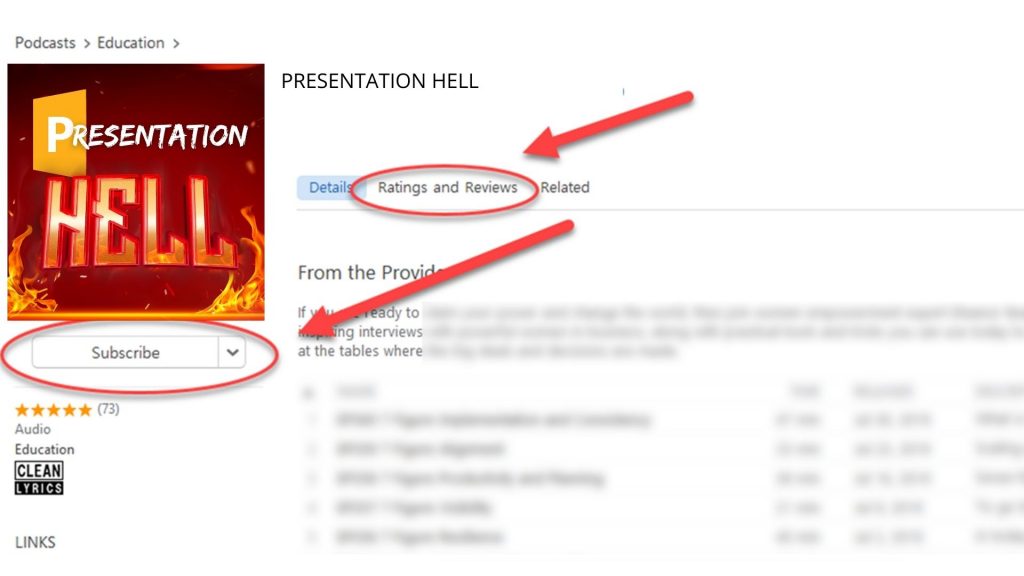 STEP 4:
Click on 'Write a Review' button (you must be logged in to write a review).
STEP 5:
Rate the podcast by selecting between 1 to 5 stars, leave a review, and click 'Submit'. That's it!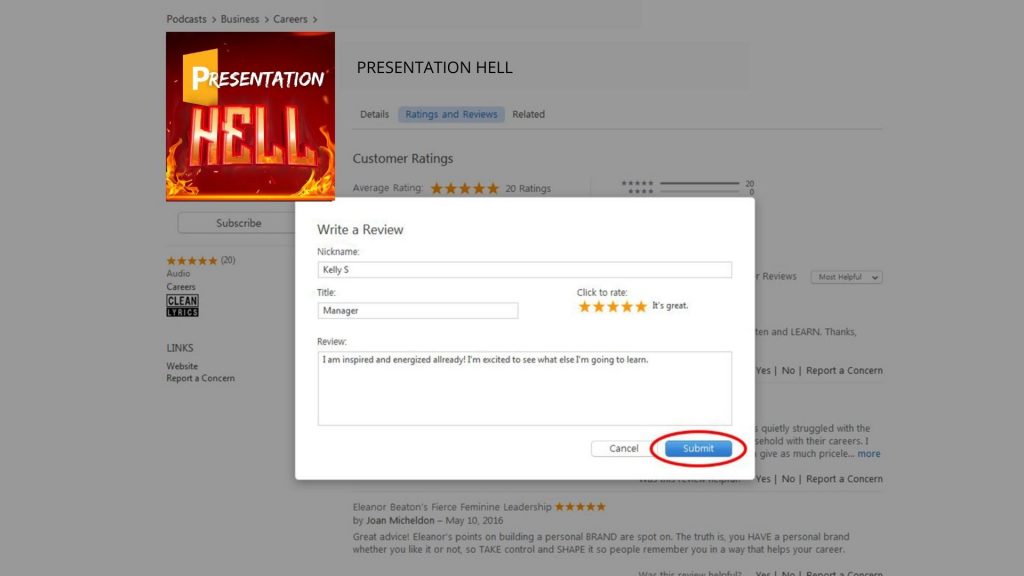 Your review will go through an approval process and can be viewed within 48 hours (if approved).
ipad / iphone
Step 1
Launch the "Podcasts" app on your device.
NOTE: If you can't find this app, swipe all the way left on your home screen until you're on the Search/News page. Tap the search field at the top and type in "Podcasts." Apple's Podcasts app should show up in the search results below.
Step 2
Tap the Podcasts app icon, and after it opens, tap the Search field at the top, or the little magnifying glass icon in the lower right corner:
Step 3
Type the name of the show you want to rate Presentation Hell into the search field, and press the Search button.
Step 4
In the search results, click on our show!
Step 5
Scroll down the page until you see Ratings & Reviews.
Step 6
Tap the purple "Write a Review" link:
Step 7
On the next screen, tap on the 5th star to the right. This is how you give the show a 5-star rating: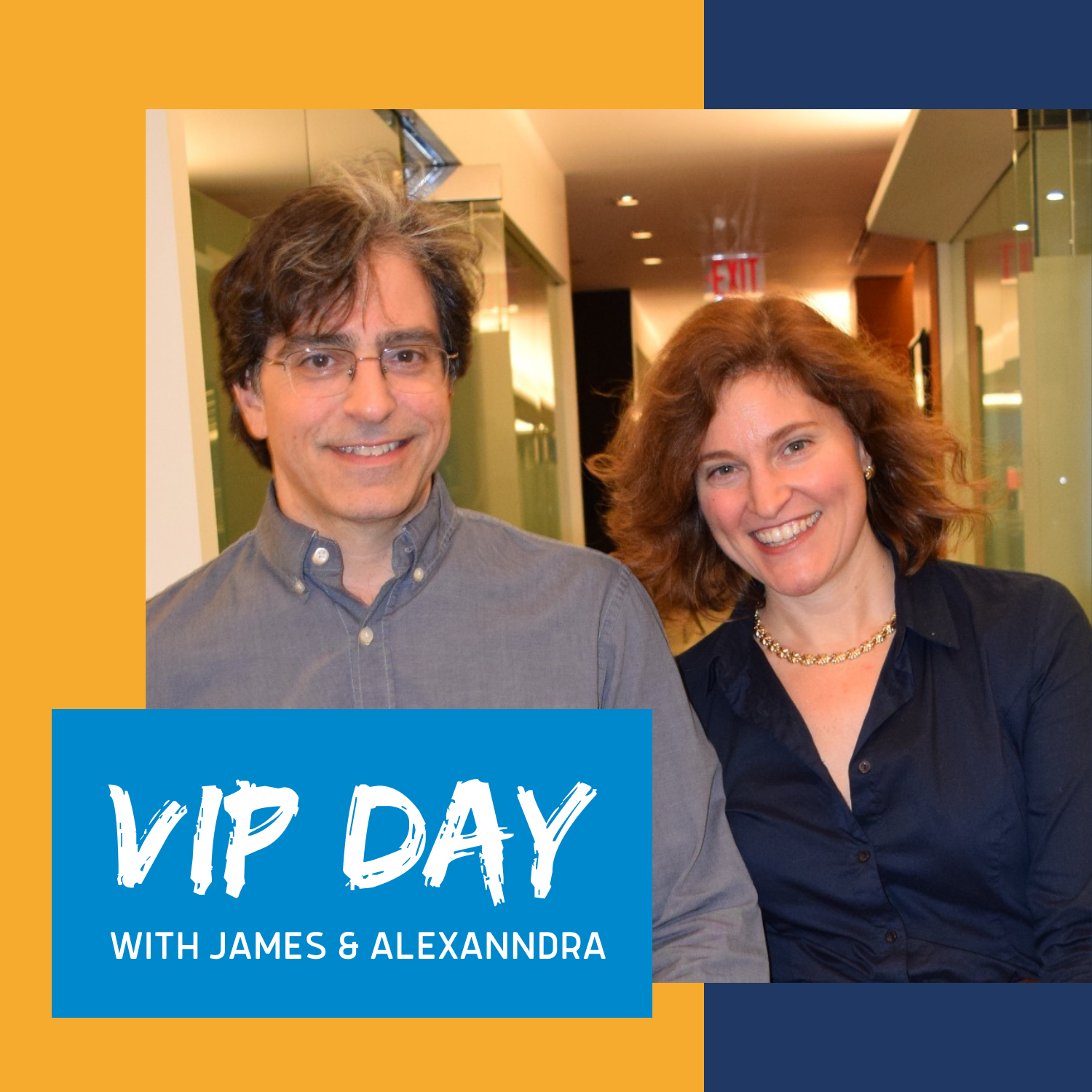 *NOTE*
It is important to send our team a screenshot of your review. Please email it to support@presentationhell.com and our team will verify it and enter you to WIN a chance in the Grand Prize Drawing for a private VIP day for a presentation makeover with your hosts James and Alex where they will coach you, one on one, where they will transform your boring story to an exciting and compelling one that lands with impact and influence everytime you speak.. In order to land next deal, whether it's in the boardroom or the bedroom.
Don't miss this chance to win!
Your review will go through an approval process and can be viewed within 48 hours (if approved).